Recovery is a rapid release formula that when ingested with water releases hydrogen within the body to support cellular energy production and the body's natural antioxidant defense system thus helping to protect the body against environmental and lifestyle related stress. Helps to restore balance after stress of a workout or daily demands.
Provides anti-aging benefits and promotes healthy skin.
Helps ease occasional discomfort and maintain joint health and flexibility. *
Aids in the reduction of lactic acid after exercise and supports lean muscle tissue during exercise. *
Helps maintain a healthy cardiovascular system and supports healthy cholesterol levels for those already in the normal range. *
Helps maintain a healthy nervous system and stress adaptation. *
Helps maintain blood sugar levels for those already in the normal range. *
Rapid release formulation delivers hydrogen quickly throughout the body.
Contains sufficient magnesium to support the body's many enzymatic functions.
Informed Sport Certified.
As a dietary supplement, take 3 tablets daily with at least 8 oz of water or a water-based beverage.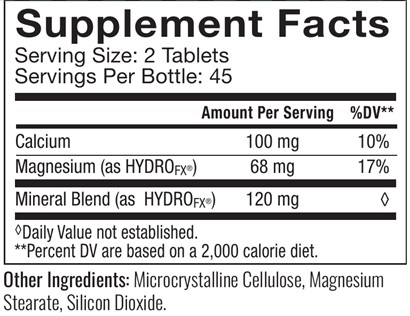 Alkaline Booster