Customer Program
Customize Your Skin Care
Seacret offers Customers the opportunity to create the experience that fits their lifestyle and skin care goals. One size doesn't always fit all, and we've made it simple to get everything you need for beautiful skin!
Whether you need an age-defying eye serum every now and then, or want a full skin care regimen delivered to your doorstep, we don't just have a Customer Program to fit your needs, but a rewards program for simply choosing Seacret. From birthday gifts to 60 % off of our retail pricing, our three-tiered Customer Program ensures that you'll feel the love from your skin care provider.
---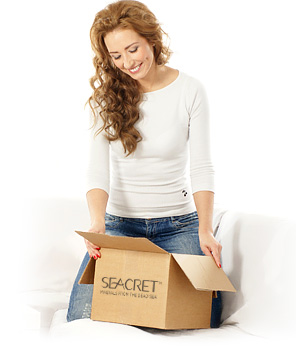 Loyalty Rewards
Seacret Customer benefits include:
$1 spent = 1 Point: redeem points for unlimited product credit!
VIP Customers earn DOUBLE (2) Points for every $1 spent, and Elite Customers earn TRIPLE (3) Points for every $1 spent!
Bundle & Save
Our Bundle & Save program allows you to choose any 3 products at the delivery interval you need, and get the results you've always desired. This Program earns you instant VIP status and gives you optimal savings on our products.
FREE Shipping
Retail and VIP Customers can get FREE shipping by placing an order of $99 or more.*
Host Rewards
You can earn huge rewards by simply hosting our famous WOW Parties! They're fun, informative, and give you a chance to lavish your friends and family with luxury skin care products. Earn unlimited product credit based both on the total sales of the party, and by getting $10 for every attendee that purchases $59 or more. And who wouldn't purchase these products when they see the phenomenal, real time results of our products. We take care of bringing the products, talking about them, and demonstrating their incredible effects.
Referral Rewards
Every day, Seacret Customers share their Seacret with their friends and family. And now, we're going to reward you for doing just that! Every completed referral purchase will earn you $10!**
---
*Available in the United States and Canada. Some restrictions may apply. $99 one-time fee includes 12 months of free shipping on personal orders.
**Available in United States & Canada.
Get Started Now!