CURB is an all organic herbal supplement that is intended to support your body's metabolism and help reduce frequent cravings for potentially unhealthy comfort foods. The herbal ingredients contained in CURB aid metabolism through balanced energy production and help reduce the desires for salty, sweet, and fatty foods which we commonly crave when under stress. CURB can be used on a regular basis, in conjunction with a healthy diet and exercise, to help win the battle against cravings for unhealthy foods that often sabotage long-term health and weight management goals.
Antioxidant.
Thermogenic.
Helps Curb Cravings for Sugar.*
Helps Curb Cravings for Salt.*
Helps Support Fat-Burning Metabolism.*
Helps Support Weight-Management goals when combined with a balanced diet and exercise.
Non-GMO
Gluten, Dairy, and Sugar Free
Soy, Nut, and Nightshade Free
No fillers, artificial flavors, sweeteners or preservatives.
Suggested Use: Take two capsules 20-30 minutes before a meal with at least 8 oz. of water.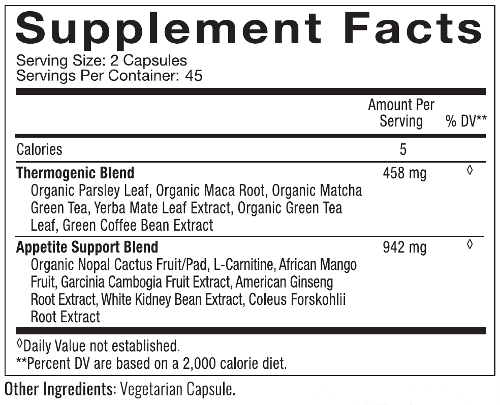 Greens Caps, Booster