SHAKE is a delicious and nutritious proprietary organic, vegan formula with sprouted brown rice, sprouted yellow pea, chia seed, sprouted ancient grains for nourishment and includes all essential amino acids. Easily digested and fiber rich.
Complete amino acid profile.
Easily digested and fiber rich.
Alternative to soy, whey, and milk protein.
Assists in building lean muscle when combined with regular weight resistance and a healthy balanced diet.*
Source of protein for the maintenance of good health.*
Non-GMO, Organic, plant-based, vegan whole food.
Gluten, Dairy, and Sugar Free
Soy, Nut, and Nightshade Free
No fillers, artificial flavors, sweeteners or preservatives.
23 grams of protein, 120 calories, and 4 grams of carbs per serving.
KOSHER
Mix two level scoops with 8 oz. of cold water (or preferred plant-based milk) once a day. One to two times a day. Mix or shake well until smooth.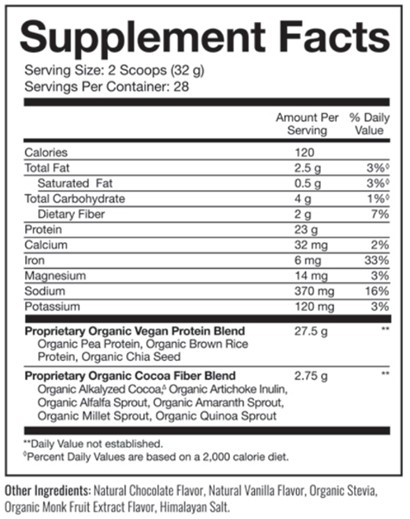 Greens Powder,