BOOSTER can support your body returning to a state of balance and optimal function, if you overindulge, make poor diet choices, or find yourself feeling out of balance due to stress.  Booster may also support restful sleep, digestion, and an overall sense of well-being.*
Alkalizing minerals help neutralize excess acidity in the body and support the body's natural pH balance.*
Supports the body's bicarbonate reserve to aid indigestion.*
Helps support the immune system, energy, and an overall sense of well-being.*
Helps promote restful sleep.*
Organic marshmallow root, fennel and lemon to aid digestion.
Non-GMO
Gluten, Dairy, and Sugar Free
Soy, Nut, and Nightshade Free
No fillers, artificial flavors, sweeteners or preservatives.
Take four capsules one hour after an acidic meal or before bed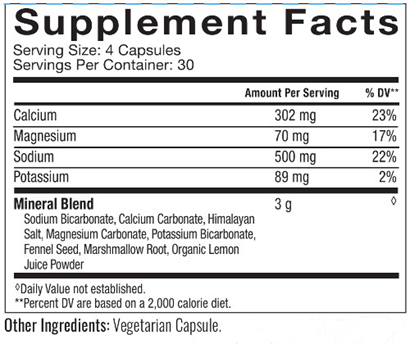 Life by Seacret Greens to further support your body's balance.