Giving Back
What is "These Numbers Have Faces"?
These Numbers Have Faces (TNHF) is an international education nonprofit empowering young people to become leaders, reduce poverty, and transform their countries from the inside out. TNHF in the future leaders of Africa by providing college scholarships for disadvantaged youth, yet these scholarships do not come in the form of a free hand out.
Together with the support of TNHF staff and mentors, TNHF scholars commit to developing their community through service, participating in a mentoring program, engaging in financial literacy and leadership trainings and reinvesting one full year of tuition back into a scholarship fund for upcoming students.
---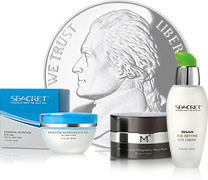 How is SEACRET Helping?
SEACRET has proudly pledged $0.05 on every product sold to TNHF.
At SEACRET, we understand that giving back is just as important as providing a quality product. TNHF was founded on the idea that education and community reinvestment can change the world. SEACRET is proud to partner with TNHF to achieve these goals.
---
"SEACRET is more than a skin care company. They're a fantastic group of people committed to giving back and providing opportunities for young people around the world. We're honored by our partnership with SEACRET, so thankful for their unique approach to business, and are confident in the impact we can make together."
— Justin Zoradi
Executive Director, TNHF
---
To learn more about These Numbers Have Faces, please visit:www.thesenumbers.org.